Also available in: Français
Due to the recent media attention surrounding ChatGPT's success, AI has gained a new persona; however, this is not representative of all AI available. Beyond simply conversing with AI, there are a plethora of capabilities that can assist with various tasks such as voice editing, music generation, image manipulation, photo clean-up, and more. Join me as we explore some of these capabilities.
Poised – your AI communication coach
Poised is described as the AI-powered communication coach that helps you speak with confidence and clarity. It's a private and secure tool for digital-first workplaces.
It gives you a score when you speak, regarding some indicators like filler words, your tone, and your confidence.
It simulates a public speaking situation and uses GPT-3 to analyze your results.
Pragma – your AI Assistant for sales & success
Pragma is presented as a tool that connects to your workflow to help you write text at the right moment with the information you need.
You can automate your writing, and ask the tool to reformulate some parts of your text, you can also create shortcuts and snippets to make your daily job easier.
MurfStudio – your natural-speaking voice generator
Murf is a voice generator that takes text as input, and gives you a wonderful human-sounding voice output. It helps you make studio-quality voiceovers in minutes. You can use Murf's lifelike AI voices for podcasts, videos, and all your professional presentations.
I've tested it a little bit: the Studio is really good, you can write a script or import it, choose your voice among free or paid ones, create a dialogue, correct the pronunciation of words or names throughout all your project, insert pauses during the speech, etc.
I miss a feature to tell the software the pause (short break) should use a descending, neutral, or ascending tone. And I know the tone used in several languages can change the sense of a sentence.
Cleanvoice.ai – multilingual filler sound remover
Cleanvoice.ai helps to remove all the sounds you could make with your voice or mouth: the annoying Uuuhhh, the unsolicited Ssss, or the bad tongue-click habits It also removes the "Dead Air", the too-long blanks, for a more smooth podcast.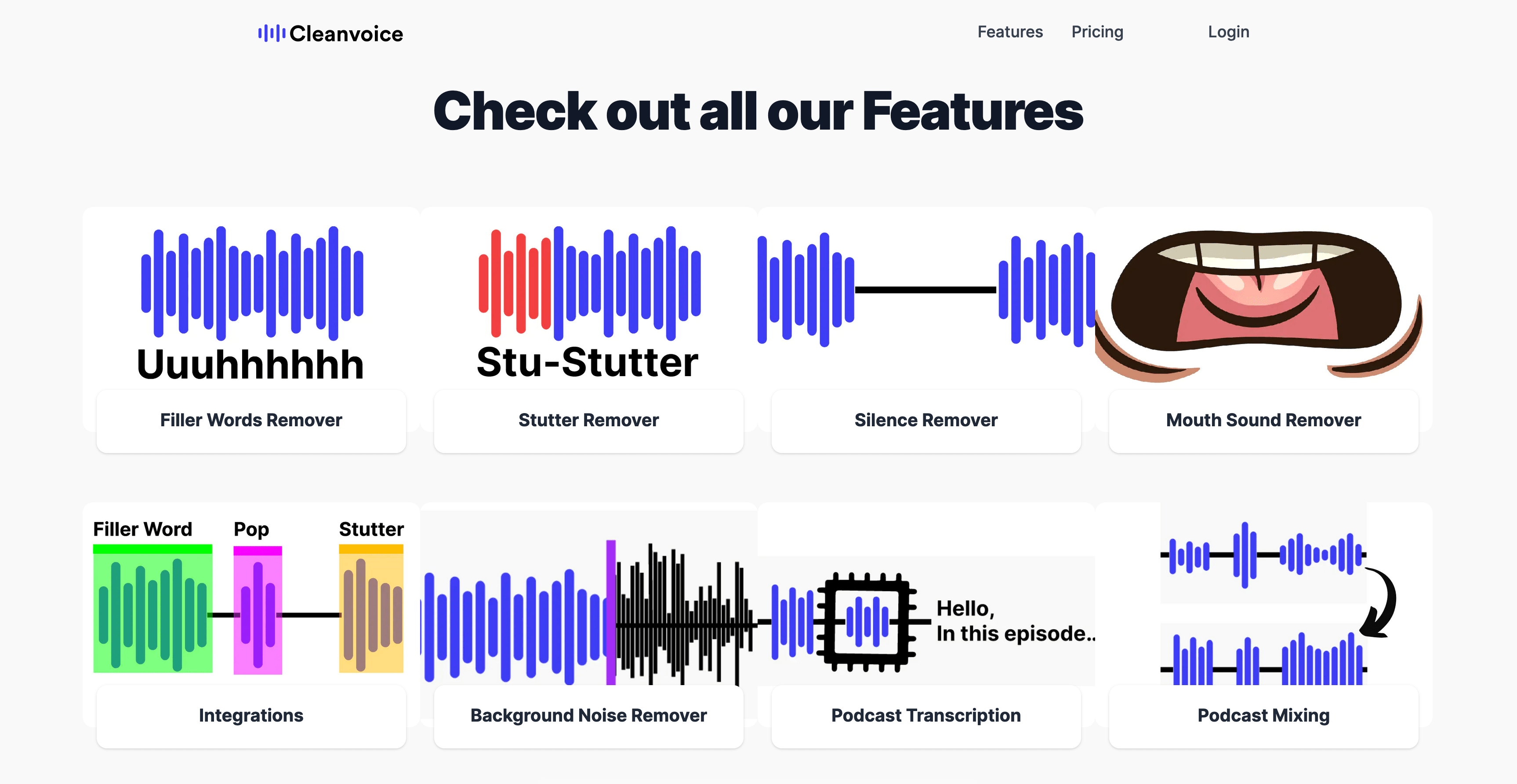 It can be a really good helper to reduce the time you need to post-treat your recording for a podcast. It doesn't work while recording but as a post-treatment tool.
Synthesia – generate natural speaking video from a text
Synthesia is close to the Murf solution, but adds a video layer that is powerful: you can pick a character, their voice and speech quality, and add texts and images next to the speaking character.
Then you write your text, and the virtual actor will speak for you, generating a professional video.
Krisp.ai – removes background noise
Krisp.ai is a tool that analyzes the sound when you speak and removes all background noises like background voices, background noise, and echos.
You can plug this tool with any other tool you use for your meetings as it smartly plugs into your system. The free version offers you 60 min per day.
Otter.ai – your AI meeting assistant
Otter.ai is your new meeting assistant that records audio, writes notes, automatically captures slides, and generates summaries.
It is compatible with Zoom, Google Meet, and Microsoft Teams, among other meeting solutions.
Podcastle.ai – Multi-tools AI for podcasters
Podcastle.ai helps you publish better Podcast episodes in several ways: it adds transcript, cleans out your audio, revoices using samples of your own voice, and proposes text-to-speech.
All of that combined seems really powerful.
Soundraw.io – Generate your own music with AI
Soundraw.io is a music generator using AI to create Open Source music that you can download. The tool is really powerful and proposes several options that allow you to tune your sample: tempo, style, keywords, and more.
I had the occasion to present this tool several times during conferences and meet-ups, and people were always amazed by the accuracy of the Mood, Genre, and Theme proposed by the AI. Really useful for Vlogs, intro videos or podcasts, or even ambiance sounds or helper to start your own composition.
If you ever want to use the sound generated, you'll need to subscribe at least for one month ($14) to download and get the rights of using it anywhere. If you subscribe, use the code geoffrey.crofte in the coupon code field. 😉
Beatoven.ai – generates royalty-free music samples
Beatoven.ai is a tool that helps you generate music by defining the style, tempo, and other music-related stuff that'll generate a piece of customized random music.
I'm not sure where the AI is effective and involved here, maybe on the random generation step, but the tool provides pretty simple samples for background ambiance you can put on videos.
StockAI – a free stock library composed of AI-Generated pictures
StockAI is a library composed of AI-generated pictures and photos of high quality.
The pictures generated are free, and you can use them for commercial or non-commercial use. You don't need to, but attribution is always appreciated.
Cleanup.pictures – remove elements from your photos
Cleanup.pictures helps you remove elements on your photos using AI and context on your picture. I tried it using a picture of mine and tried to remove 2 elements on the picture: the watch in the background (should be an easy task), and one of the coins (harder tasks because of the leather shape and the shadow).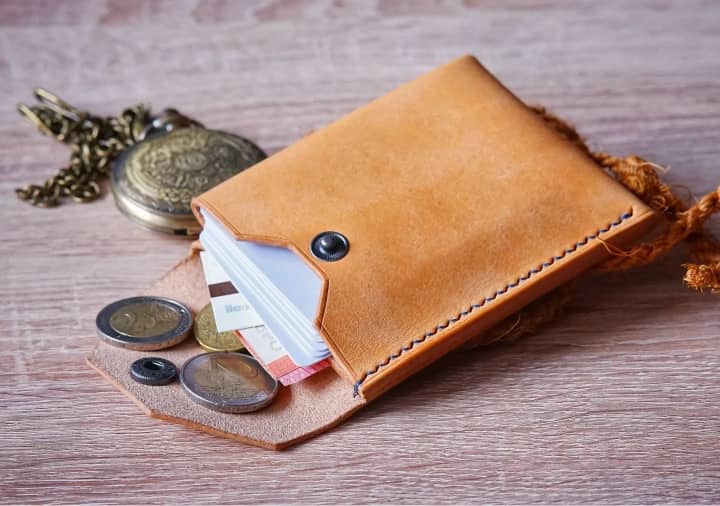 As you can see, the watch removal is a success, the wooden pattern in the background is clean and logical. The coin removal has several defects: the leather has a smooth shape instead of a straight shape, and the shadow of the coin is still there. But the texture of the leather is pretty good.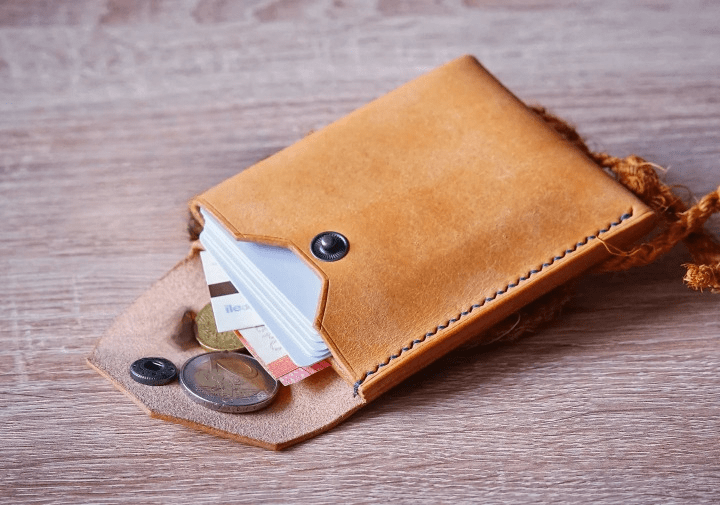 Lex Page – AI that imitates your writing tone of voice
Lex Page is a tool developed by Every that imitates your way of writing to copy your tone and habits. I can't tell you more since I'm still in the queue of being accepted to the beta test.
Craftly AI – a copywriter assistant
Crafty AI is a copywriter assistant boosted with several tools to help you with your SEO, product description, e-commerce, social networks, etc.
The process is pretty simple: choose a tool you want to use, oftentimes it's the task you want to do, like writing a LinkedIn Recommendation, a follow-up email, a product description, etc., and follow the steps of the tool, like add tags, a small description, and it will instantly propose a content you'll love.
Texti – ChatGPT alternative directly in your browser (extension)
Texti is supposed to answer your question instantly. To be honest, I tried it once or twice, and wasn't really satisfied with the answer, like when I asked "What's the most common issue in product design".
Sembly – transcribes and takes notes for you
Sembly transcribes, takes meeting notes, and generates insights for your (professional) meetings.
Thundercontent – AI for content creator
Thundercontent is an AI that helps creator generate new text content. They also have a competitor Chat named ThunderChat.
This ThunderChat can take custom pre-made prompts to accelerate the use of the tool, and connect to other tools to facilitate content creation.
Browse – Analyse data from your competitors
Browse is made to extract and analyze data from several websites (potentially competitors) without the need to code.
It offers pre-built robots for existing tools.
WordTune – Transform your writing in many ways
WordTune is here to help you change the tone and style of your writing through many different widgets within the editor. It uses GPT-3 to generate alternative ways to write the same thing, by proposing to extend or shrink the length of your writing or rewrite it with a more or less formal speech.
The tools included seem really powerful and easy to use, but the free quota provided is abusively consumed every time you click on a tab or button.
I've tested it for 10 min and had my content lost 2 times for no apparent reason. To me, it's enough not to adopt the tool, but maybe you'll be luckier than I was.
AssemblyAI – turns a video or audio into a transcript
AssemblyAI is a tool that'll help you transcribe audio or a video (with sound) into text. It's focused on API to help people build amazing tools using Assembly AI.
"Our simple API exposes AI models for speech recognition, speaker detection, speech summarization, and more. We build on the latest state-of-the-art AI research to offer production-ready, scalable, and secure AI models through a simple API. Used by thousands of breakthrough startups and dozens of global enterprises for mission-critical workloads."
I love this kind of introduction because it usually makes people totally lost in buzzwords, but anyways: it turns audio into text and it's developer friendly. 👍
Compose AI-complete your sentences for you (Chrome Extension)
Compose is an AI in the form of a Chrome Extension that helps you complete your sentences, trying to predict what you are going to say. It is supposed to make you save 40% of your writing time.
You can also use it to rephrase some sentences.
DALL·E 2 – Create realistic images from a text in seconds
Dall·e 2 is usually well known in this domain because it got a good media coverage lately. This AI helps you create more or less realistic images that take their root into a text, called a prompt, that is made to guide the AI in creating the right image for you.
It's an AI created by the people behind ChatGPT, which is also well known for its really good media coverage over the last few weeks.
Stable Diffusion – Another image generation tool
Stable Diffusion is similar to Dall·e and proposes kind of the same mechanism as entry points, but I find the results way less qualitative, at least with the prompts I used.
MidJourney – A dreamy image generator
MidJourney is really powerful, and to me, it's the most powerful image generator based on a text prompt. It creates 4 propositions out of your prompt and can take multiple parameters to generate the type of image you want.

Based on the 4 initial propositions, you can ask for more of a certain type (4 more), or for upscaling one you like.
DifferentDimensionMe – generate an anime-like image from a photo
DifferentDimensionMe is an AI made by the people behind Stable Diffusion that turns a photo into an anime-like image.
You can use 2 predefined options that use parameters to adjust the rendering of your anime image.
UseGalileo.ai – Idea to design, in an instance
UseGalileo.ai is an image generator AI which finds its source of data from "thousands of outstanding designs" and turns natural language prompts into high-fidelity designs.
As a designer, I'm amazed by both the ability of this AI to create pretty clean interfaces, and also the ability to reproduce tons of design biases: the interfaces are not really usable as-is, are oftentimes not accessible (Read more about color contrast, and accessibility, about making an accessible color palette, or about technical accessibility on WordPress Forms)
Flair.ai – generate product shots for your business
Flair.ai is a photo generator that focuses on product shots. Import your product shot, set some parameters and base photos, and let the AI work for you.
Looks really promising but when I had the chance to try the tool, I noticed one thing: the light on your good stays the same, and therefore the image looks really fake because the foreground and the background are way too detached.
Illustroke – generates vector illustrations
I would love to tell you more about this tool, but there is no demo video on the official website, and not even one free token to test the tool. Sad and doesn't give the chance to appreciate and maybe buy more tokens for it.
If you had the chance to test it, don't hesitate to reach me on Twitter or Mastodon. In the meantime, you can see some examples of generated illustrations there on Twitter.
GoProd – AI Background remover and image upscaler
GoProd is a tool made by Icons8 that proposes 2 simple things: improve image quality or remove the background from a main subject on a photo.
I've tested the upscale feature which is pretty impressive and gave me a good result on a product image. The background remover works pretty well too but won't do miracles: if your image is blurry, don't even try. My advice would be to try upscaling before doing a background removal.
Patterned.ai – generates image patterns
Patterned.ai is a tool that generates repetitive pattern images usable as background, or product patterns, for instance.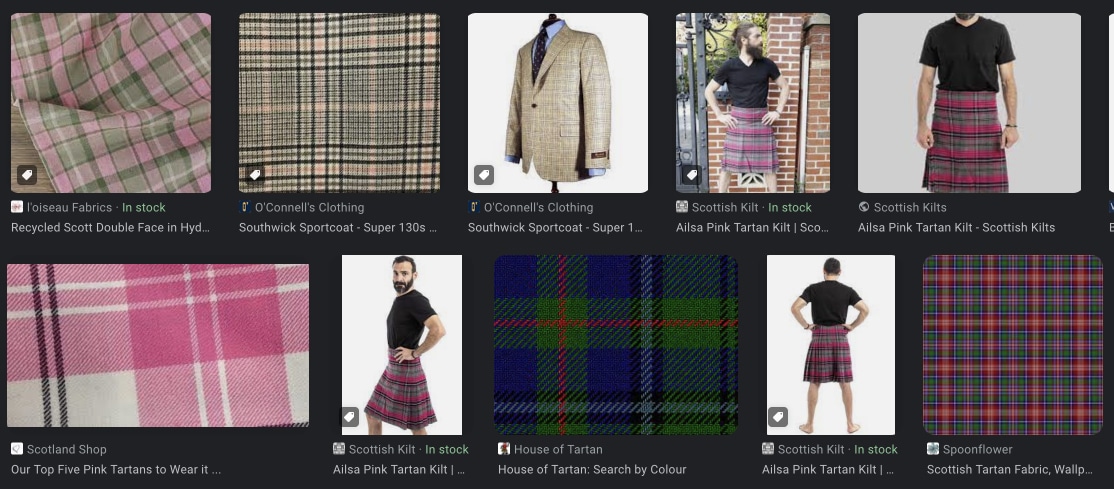 Between us, a Google Image Search was more accurate than 4 tries on this tool. Scottish Tartan is not the hardest thing to generate and has references.
Stockimg.ai – generates royalty-free stock images
Stockimg.ai helps you generate different kinds of images like illustrations, photos, and UI Design, based on a text prompt.
I've tried to generate one with only 1 credit offered. It wasn't what I expected, but the leather material surface was pretty much stunning. Yeah, I've got a fun hobby if you didn't know.
I've tried with the Web UI generator, but I wasn't convinced at all.
Prompt2figma – generates interfaces within Figma
Prompt2figma generated interface directly within Figma using your prompt as input. The output can be anything from a mobile screen to website interfaces, or just small components.
I didn't have the chance to test it, I'm still on the waiting list for the Beta.
Copy.ai – Generates complex text pieces like a blog post or product description
Copy.ai is made to make your life easier when writing a blog post, product description, or anything that looks like a medium to a long piece of text to write.
It helps generate ideas, but it also generates a complete copy of whatever you would need. I've tested it personally to generate product descriptions in English, as I'm less fluent in this language, and it was pretty stunning et really helpful and accurate.
Ocaya.com – Social Media AI
Ocaya.com allows you to prepare and publish on social media more quickly. It helps you analyze what kind of content and formulation worked best to propose content improvements.
It also helps you create engaging images to make your posts more visible, select trending hashtags and prepare your captions.
Vidyo.ai – make short videos from long ones
Vidyo.ai is a tool that promises to smartly shorten your long videos. I tested it myself, and it's far from being usable. To be short on this one -because the product might evolve in the next months/years- pass your way, don't buy it, if:
you have multiple videos to mount
you don't speak in your video
you don't speak English
The AI is simply not able to find a way to deal with your source, and can't take multiple sources. And it's not the end of the bad experience I had: the amount of emails received from this tool is insane. And some of them are useless: "Congratz on generating 0 videos!" Yeah, congratulations indeed… Useless.
QuickChat.ai – a chatbot relying on OpenAI
QuickChat.ai is a tool powered by OpenAI that tries to bring back the chatbot trend with a more performant mechanism behind the answers delivered to the user.
This chatbot can recognize and speak your native language. You can use it to automate your customer support, online applications, search through the internal knowledge base, and many other tasks.
Quick chat Web Widget embedded on your website, but also other apps such as Facebook Messenger, Discord, Slack, Telegram, or live chat software. You can even connect it to your own application using Quickchat API.
PuzzleLabs.ai – AI Powered Glossary
PuzzleLabs.ai wants to bring more clarity into complex guides, documentation, or any type of text content by bringing definitions directly into your content.
I'm not sure where the AI is in action in this kind of tool/widget, but as I can't test it yet (waitlist) we will have to wait to know more about this one.
Looka – Logo Maker and Brand kit generator
Looka.com proposes to help you create your new brand assets: Logo and brand kit.
It starts by asking you for some information about your company/business and asks for some personal preferences. The logo generated isn't amazing but for a company with a low budget, it's a good start.
The brand assets include a presentation, website, business cards, t-shirts, etc. But between us, for supposedly AI-generated content, it sounds really basic and generic. Enough to tell me that there is some BS stuff behind AI lately.
An extensive list of AI by category
You'll find an amazing list of AI that are organized by category/purpose on the AI Toolbox GitHub repository. I'm sure you'll find amazing stuff in there.
I must, however, remind you that AI-generated content has a big common limit: the creator's own biases, and the data model used. Archetypes and human defects might just ruin your experience with those so-called AI.
Don't hesitate to propose a new entry if you are working on a new AI-powered tool.