Also available in: Français
Everyone has heard of SEO when it comes to optimizing their search engine visibility. However, very few people pay attention to the SEO of their images, and it starts with very simple things that are rarely put in place. Image SEO can help you with this.
Image SEO is a WordPress plugin that offers features to optimize your images for a better referencing of your illustrated, photographic or pictorial content. Let's see together the key points of this plugin to better understand how it works.
What Image SEO offers
Image SEO promises you a better referencing of your images by working particularly on 2 aspects :
The name of the image.
The content of the alt attribute.
For the first item, your oddly named images like Screenshot-2020-01-19.png will be renamed, for example: green-plant-flower.png automatically when the image is uploaded to your WordPress media library.

For the magic to work, Image SEO calls for automatic recognition of the contents of your images in order to provide you with suitable keywords.
The alt attribute is a small element in the HTML code of the image that is used to display alternative content if the image does not load, but is also used for digital accessibility. Alternatively (;p) it is used to optimize the semantics of the image for SEO. In the same way as for the image name, the plugin will propose interesting keywords for your image.
Features of Image SEO
Now that we have seen the heart of Image SEO and how it works on your images. Here is what the plugin offers in term of main features.
Image SEO bulk optimisation
Because you certainly have an already extensive image library, it can be convenient to optimize existing images with the bulk optimisation tool.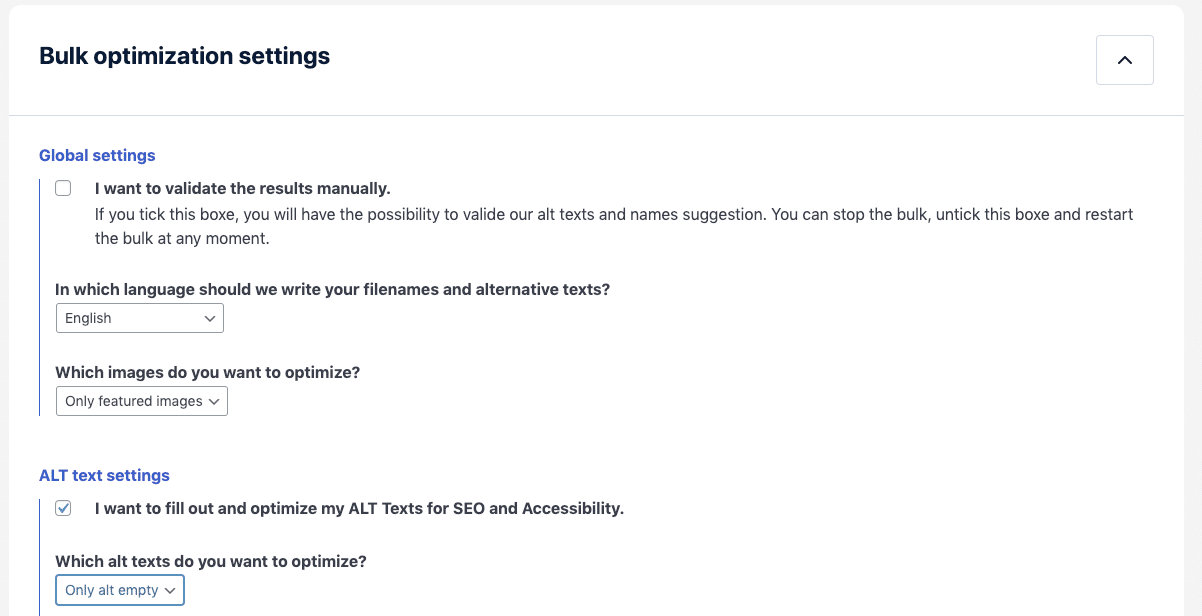 After a few adjustments in the interface :
activate manual validation,
choose the language of the keywords,
choose the type of image you want to optimize,
the number of keywords to be included and the text format to be adopted,
whether or not to include alt attribute optimization,
it will be possible for you to launch the bulk optimization. This may take some time depending on the number of images you have in stock.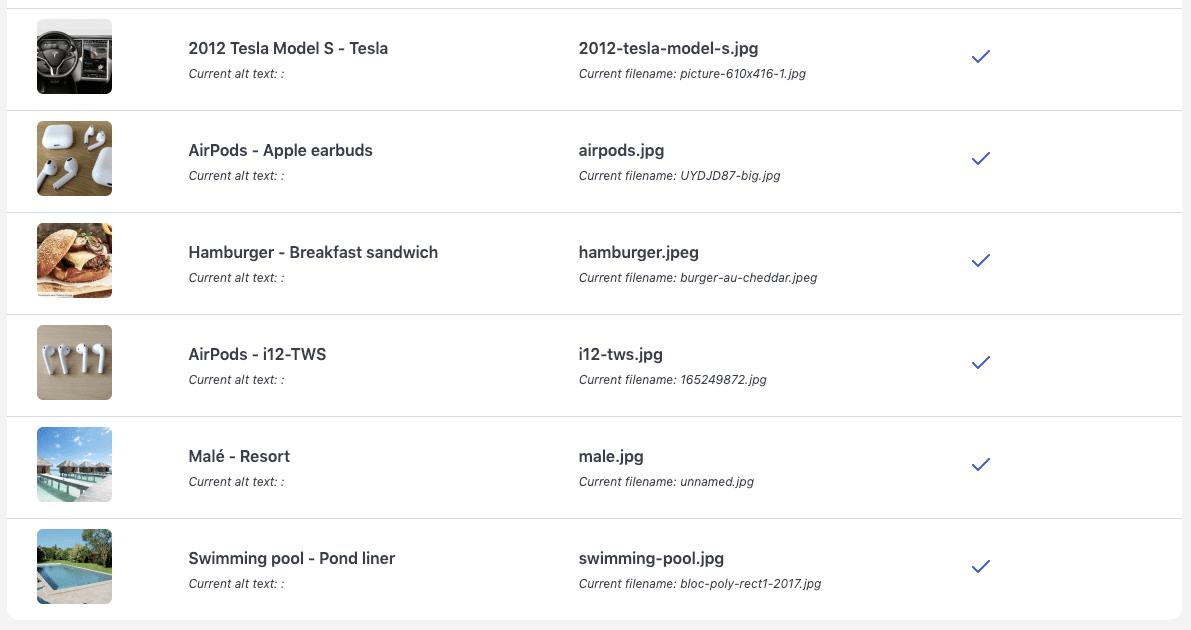 Optimization of the SEO of new images
When you have activated the plugin and  if your image quota allows it, new images are automatically optimized. I've done some tests and it's globally quite amazing.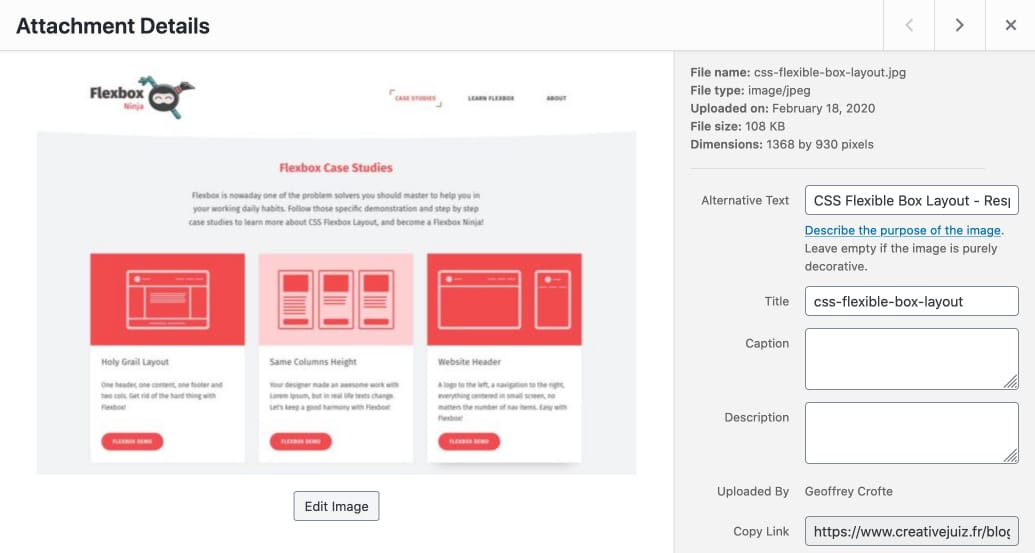 Sur l'image précédente illustrant l'un de mes sites web sur Flexbox, l'outil a titré CSS Flexible Box Layout - Responsive Web et a renommé l'image css-flexible-box-layout.jpg. C'est plutôt précis et adéquat.
On the previous image illustrating one of my websites on Flexbox, the tool titled CSS Flexible Box Layout - Responsive Web and renamed the image css-flexible-box-layout.jpg which is pretty accurate and adequate.
Social banners & Pinterest Optimization
The tool also offers an option to optimize your image on social networks, offering to complete the OpenGraph and Twitter Card format for you, generating the necessary code to be recognized by social networks such as Facebook, Twitter, or even Pinterest.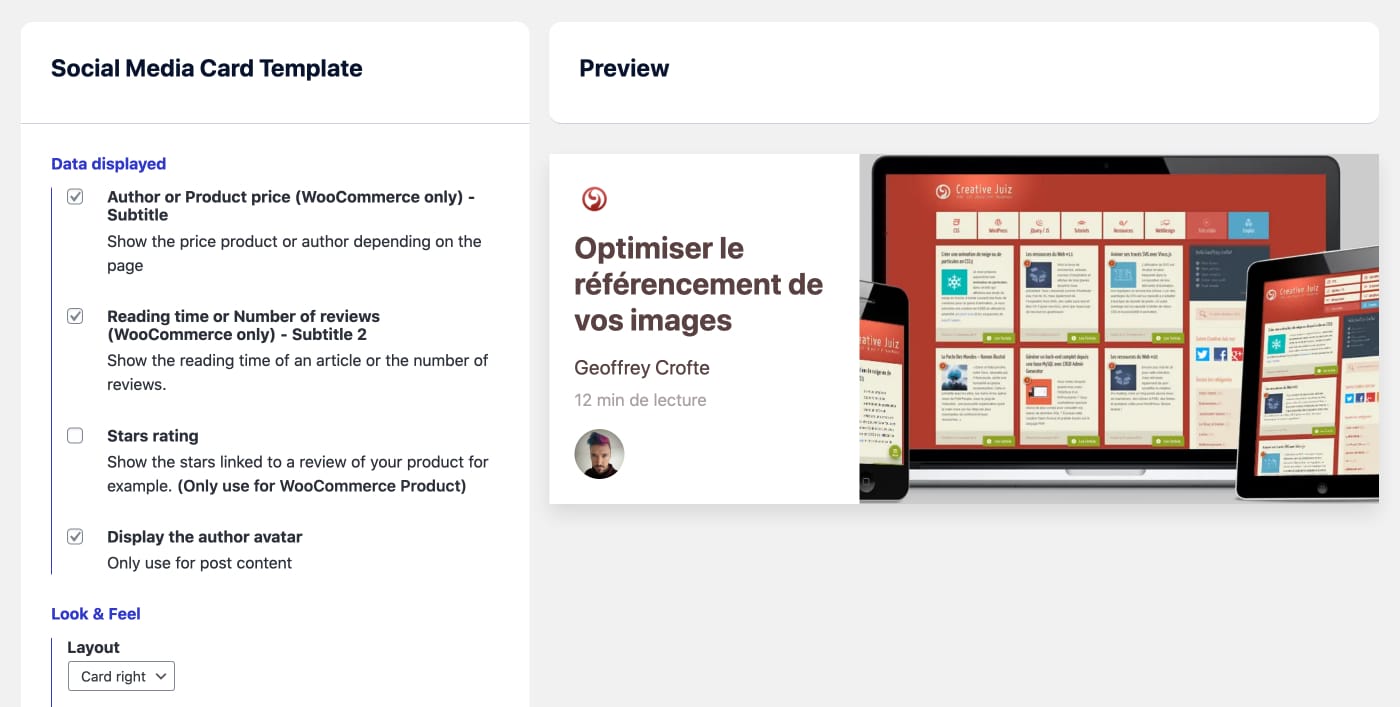 You can set the default image for your social banner, but also the template for future banners. The plugin is compatible with Yoast SEO and SEO Press to not conflict with them.
Speaking of Pinterest, you will be able to individually edit the information of each image for Pinterest in the media.
Image SEO Usability
One thing I usually care about when I use a plugin is its usability. When I set up this type of tool on my blog, I don't want to spend three hours setting it up and I want to focus on the quality of my content.
On this side, Image SEO is doing really well. I was able to install the plugin without having to download a version from outside the official WordPress directory. 1 click and it was installed, 1 more for activation and a third one to get to the settings page.
The tool then offered me to create an account so I could start optimizing the SEO of my images. The magic happens when it retrieves by itself the API key it needs to work.
It's done. I can start using the plugin which offers a much nicer interface than the usual austere WordPress interface. The few pages of settings are quickly browsed, especially since there is only one page linked to the core of the plugin. Indeed, the Social Banner section allows you to create a social banner template whose default settings are rather clean. But I decided to optimize it for fun as you saw before.
All those onboarding steps must have taken me five minutes to complete. Then I went to the posts and medias to see the new options and commands available to me. Really easy to learn.
Image SEO is free for 10 images per month and will charge you €5 for a hundred images per month. Given the time saving that this allows, the "one shot" offers to optimize a given number of images at once, followed by the free offer or the €5 entry fee is enough for an occasional blogger, or even a professional one, depending on the nature of your content.
For your information, Image SEO does not optimize the weight of your images. But you can look at Imagify for that.
What about accessibility in all this?
It should be noted, however, that the tool does not at any time take into account the impact of populating alt attributes with keywords. You've probably heard of accessibility, and if you haven't, you should know that this attribute that SEO experts like to shield with keywords is actually quite handy for people with sight-related disabilities.
Indeed, some terminals called screen readers go through your web page by reading its source code and transcribing its content aloud. When these screen readers go through an image, it is obvious that there is nothing to read on this image (at least in the source code), unless the content editor has filled in the alt attribute intended to describe the content of the image and help the visually impaired to imagine its content.
The use of alt attributes for SEO in an abusive way is therefore not recommended for accessibility reasons. Indeed, if an image is purely decorative and does not add content to the textual purpose, it is recommended to leave the alt attribute empty. And if you need it, it's not only to put keywords in it, but to describe the image.
The plugin team informs me at the earpiece that a future version of the plugin would bring the option "This is a decoration image" to leave the attribute empty when optimizing the image for SEO.
However the optimization of the image name is already a good point for this plugin and your SEO 🙂
Future Features of Image SEO
In discussion with the small plugin development team, I am informed that future features are already under consideration or under development:
Broken Image Checker: the tool will be able to tell you which images seem to be missing. Indeed Google penalizes the bad quality of internal or external links (404 errors).
Images Sitemap: to index your images pro-actively.
Prevention of sensitive image categories: propose an alert on the sensitivity level of the analyzed images, especially for images typed as "Adult-Related", content for adults.
Marking of decoration images: as I said about accessibility, it will be possible to mark images as decorative to accept the empty alt attribute.
You should also know that Image SEO is not just a WordPress plugin, but a service with an API that allows its integration into any CMS or custom development.